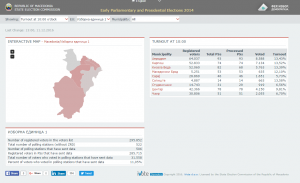 iVote, as a long term partner with the State Election Commission of Macedonia, is providing new, upgraded election management platform for the early parliamentary elections 2016.
The new generation of iVote Demokra will process 3514 polling stations all across Macedonia and more than 1.7 million ballots on December 11th.
Election night reporting web site with completely new functionalities and data presentation has been transmitting preliminary live results and turnout. Robust and scalable architecture allows for high number of simultaneous visitors of the election night reporting web site. Responsive design of the site allows better user experience and reach to tablet and mobile audience. Users can share information on various social networks such as Facebook, Twitter and LinkedIn.
"Election processes are very complex and colossal. I am glad that we managed to implement all the latest electoral law changes on such short notice. The iVote team fully devoted to exceed customer expectations and to provide user friendly election management system"- stated Mr. Tomislav Zografski, CEO of iVote.
The new system has been developed offering increased number of modules and functionalities such as: electoral configuration and administration, monitoring Election Day, audit and investigation, allocation of mandates, timely generation, calculation and presentations of the reports.
Demokra platform incorporates e-learning management system and SCORM packages for the SEC staff. E-courses and training materials are available online and will improve accessibility and convenience to the users. SEC will significantly reduce costs and time for organizing courses and trainers.