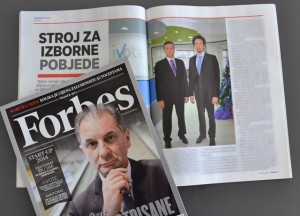 Forbes' February 2014 SEE issue, dedicated to the region's most successful startups, features an interview with the founders of iVote, a Macedonian company specialized in election modernization, e-commerce and e-learning systems. The founders' vision and perseverance helped build a company that is now a worldwide leader in elections management and has earned iVote international recognition.
The company's leading software solution iVote Demokra is an integrated platform that provides comprehensive management of elections. The Demokra technology has contributed to timely, transparent and credible election results in democracies around the world. The company was recently awarded the prestigious European Venture Contest award. Competing with more than 800 other startups from across Europe, iVote was singled out for its potential for international growth.
In the interview, the founders underscore that iVote has become the regional leader in the implementation of software solutions for election commissions. The iVote Demokra technology has been trusted by 107 million voters around the world, having been recently used in elections in Macedonia, Kosovo, Bosnia and Herzegovina, Albania and Ecuador.
Looking forward, iVote has adopted an ambitious strategy for global expansion particularly in the US, EU, Central and Eastern Europe and Africa. The company is now seeking new partnerships and investors in these regions.
You can read more about iVote in the February 2014 SEE edition of Forbes.