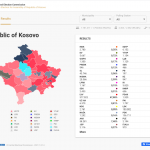 The Central Election Commission of Kosovo used iVote DEMOKRA software election platform for yesterday's parliamentary elections. iVote DEMOKRA provided timely and always publicly available and credible data on election preliminary results during election night. The publication of the preliminary results was presented on a special results website which, despite the huge interest from the public, was consistently quickly available to all users without restrictions https://rezultatet2021.org/en/parl/r   The same is completely independent from the website of the Central Election Commission
Since 2009 iVote DEMOKRA platform has been also used for the processes in the Center for Counting and Results, for final verification, verification and archiving of election results.
iVote is a Macedonian company specialized in the field of election technology and learning systems. iVote DEMOKRA is a cloud software platform trusted by 142 million voters worldwide, with flawless references in Macedonia, USA, UK, Kosovo, Albania, Bosnia and Herzegovina, Ecuador, Kyrgyzstan and Ukraine.