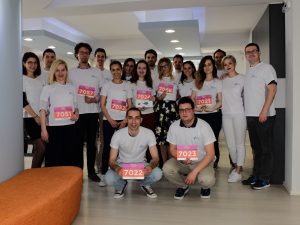 Once again, the iVote team will be running at the Wizz Air Skopje Marathon 2017 on the 7th of May. #RunForCause is this year's main, leading motive that entice the whole team to run and raise awareness about cardio vascular health. The iVote team supports life-changing healthcare improvements and will take active part in a testing phase of a project called "ECG Alert", partially funded by the National Fund of innovations and technology development of Republic of Macedonia.  The purpose of the "ECG Alert" is to develop a system for early detection and alerting of the onset of a heart attack. The system consists of a wireless and mobile ECG biosensor, a data center, smartphone and web applications, and a remote 24 h health care.
iVote participants will be carrying lightweight sensors that are attached on the runner's chest, connected with a mobile application that follows and records the work of the heart. The signals are transmitted via smart phone to the server and through a proper application doctors can monitor the heart activities.
"As an IT company we are eager to support technology and advanced devices in health sector that improve quality of life and wellbeing of the people. We voluntarily signed up to participate in the phase of testing medical devices called "SAVVY" at the Skopje marathon, and to give our contribution towards developing proper system that will help people in early detection of heart problems.  We run for a cause, we run to support people with cardiovascular diseases and conditions". – Stated Mr.Tomislav Zografski, Genral Manager of iVote.
"SAVVY" is a comprehensive and reliable solution for people with cardiovascular disease, but also for athletes and people with active lifestyles who want to follow the work of the heart. If there's any abnormal heart activity, doctors are notified by the system and may call the patient with timely instructions and medical advices. This thing can really save people's lives!