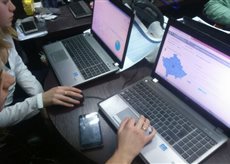 The early local elections in the municipality of Glogovc held on December, 4th 2016, have been technologically supported using the iVote Demokra Election Management Platform, developed and implemented by iVote in cooperation with the infrastructure provider Ilir. iVote has been trusted partner of the Central Election Commission of Kosovo since 2009, when the process for modernization of elections has been started. Ever since then, the Demokra software has been upgraded constantly in order to strengthen the democratic processes.
"The CEC of Kosovo has always been the forerunner in implementing state of the art electoral technology. We tailored the Demokra system's architecture in such a way to be easily enhanced and modified for the CEC staff and in accordance with all electoral laws and legal regulations"- stated Mr. Tomislav Zografski, CEO of iVote.
The Demokra provides automation and ease of all processes from logistics to official results including: electoral configuration and administration, counting center operations, tracking of election materials, tabulation of results, audit, internal reports, allocation of seats, live turnout and Election Night Reporting – ENR (http://rezultatet.kqz-ks.org).