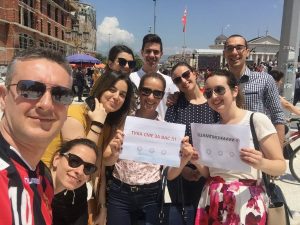 iVote welcomed European champions handball team, Vardar at the city's main square. Macedonian male handball team, Vardar, won the EHF Champions League and iVote joined the crowd of thousands of fans to support and cheer the national heroes.
"Only great team work and team spirit can bring success and prosperity. As the sports teams winning titles depend on their players, the same is with company's players. We need to encourage each other, to help each other and grow together. That is the key of building true values and winning culture.  Vardar showed us that hard-work and persistence are crucial for achieving the goals". – Mr.Tomislav Zografski, General Manager of iVote.
We wish Vardar to win many more titles and to continue with the great work.